January 2, 2013
Fan of pranks? Watch The Antics Roadshow on Netflix streaming.
.:.
And this is pretty awesome: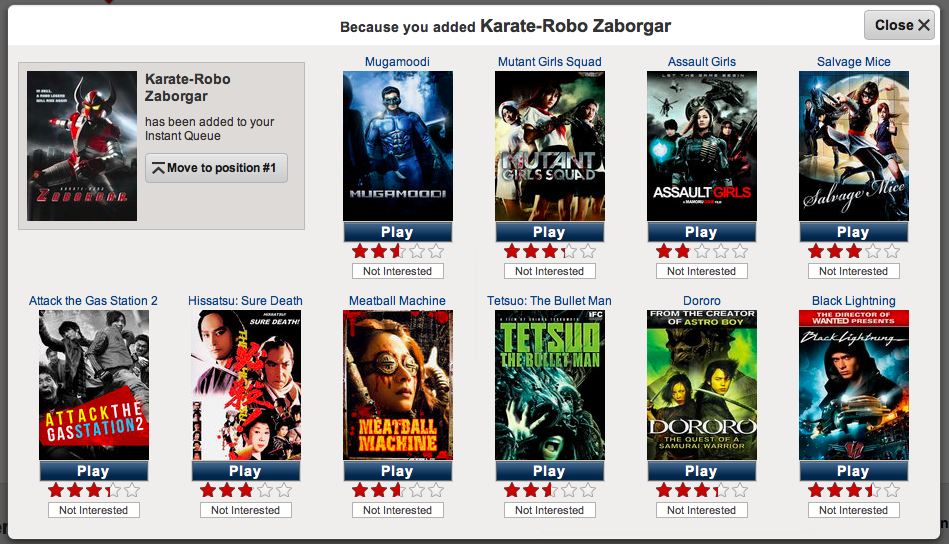 Because I added the film Karate-Robo Zaborgar to my Netflix queue the following films were recommended…
Attack the Gas Station 2 (Juyuso seubgyuksageun 2) 10 years have passed since Mr. Park had his gas station robbed. Since then, neighborhood thugs and biker gangs have continued to rob him. Mr. Park decided that he has had enough and declares war.
Meatball Machine A new romance between factory workers Yôji (Issei Takahashi) and Sachiko (Aoba Kawai) is going well – that is, until aliens invade Earth and implant themselves into tumor-like growths on humans' shoulders. When Sachiko is attacked and transformed into a slave cyborg, it's up to the half-infected Yôji to rescue his lover. Co-directors Jun'ichi Yamamoto and Yudai Yamaguchi surround their tender love story with a rollickingly gross splatter-fest.
Mutant Girls Squad (Sentô Shôjo: Chi No Tekkamen Densetsu) Teen misfit Rin discovers she is a weapon-clawed mutant, descended from creatures who are being exterminated in the name of public safety. She soon learns she isn't alone and joins a group of similar mutants who are training together to fight back.
Black Lightning (Chernaya Molniya) When he unexpectedly receives a rusty old clunker as a gift, Moscow college student Dima (Grigoriy Dobrygin) nearly ditches it out of embarrassment. But after discovering that the car can fly, Dima takes advantage of this special weapon to become a real crime fighter. And the film that started it all…
Karate-Robo Zaborgar (Denjin Zabôgâ: Gekijô-ban) Superhero Daiman, who rides a robotic motorcycle that knows karate, is called upon to battle the syndicate Sigma, led by the evil Dr. Akunomiya and his sidekick, gorgeous cyborg Miss Borg. Looks like I'll be busy for a while… .:.