December 1986: Punk Rock
Bands I'm in and bands I'm into: Friday — Bought Attitude Adjustment and Crippled Youth at Raunch Records.
Monday — Pete said that we (Rabid Lassie) could probably practice with "Disabled", a local band just starting. Didn't work out so we practiced at Jason's. I went to Ted's after that. Jef had just bought a P.A. with two speakers. We (Unit Pride) jammed for a while. Wednesday — Bought the Youth Brigade 7" "What Price Happiness?" at Rasputins. Thursday — Ted, Jef and I recorded as "Asparagus Plus." Saturday — Unit Pride jammed. We went to Berkeley. I bought the new S.N.F.U., and Crumbsuckers "Life of Dreams". Oh yeah, Jef got the "Mojo Nixon and Skid Roper" tape. Classic.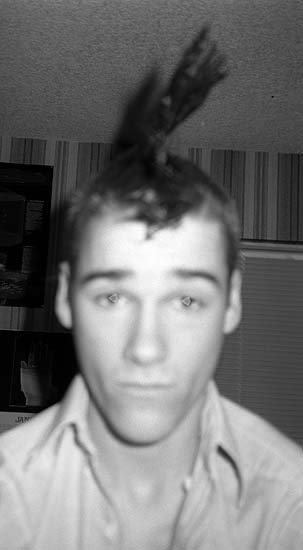 Saturday — Bands we saw at Day at the Farm, in San Francisco: Insted, Half-Off, Neurosis, Christ on Parade (who "killed" a dummy of President Reagan, complete with blood), Twisted, MDC, Clown Alley (my all-time favorite band). We left before Sacrilege B.C., NOFX, and False Liberty played.
"Mark": Asparagus Plus? Was that Sal & His Cup of Coffee?
Astle: Good article and very fun to read. The information provided by you is very fantastic. You gave a outstanding notes on punk rock. I am really thankful to you for your information.
jonna: Hey! Better late than never I suppose. I lived and worked at the Farm at this time. Just wondering if you knew or still know anyone who worked or hung out there? This was an amazing time in my life and would love to find some old friends who are long lost. Thanks for the memories!