1990: Mannequin Beach
1990: Mannequin Beach, Reptile Records, Provo, Utah. Photos by Trent Nelson.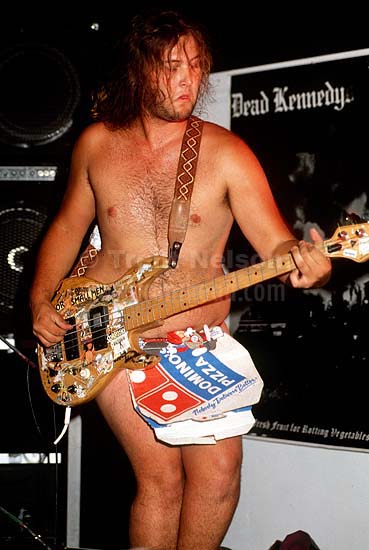 Mannequin Beach was the funniest show ever. When the bass player came out wearing only a pizza box and started leaping around with the pizza box flying up and down revealing all, the conservative BYU-student crowd cleared out in about five seconds, leaving about three of us to enjoy the show. Afterwards, I remember the owner of Reptile Records (the venue) saying, "He asked me before the show if he could come out wearing a pizza box, but I had no idea that's all he was gonna wear!"
As always, clicking on the images will take you to the original in the PhotoShelter photo archive, where prints are available.
Sammatha: Who is the name of the bass player? Is he Jeff Staudinger?
Trent Nelson: not sure.
danny: I ran into these guys in Illinois back in the early 90's while on tour with my band. Great guys. I think they were stranded and waiting for money or repairs. I don't quite remember. I still have my Mannequin Beach T-Shirt. Fuck the PMRC Fuck the FCC!