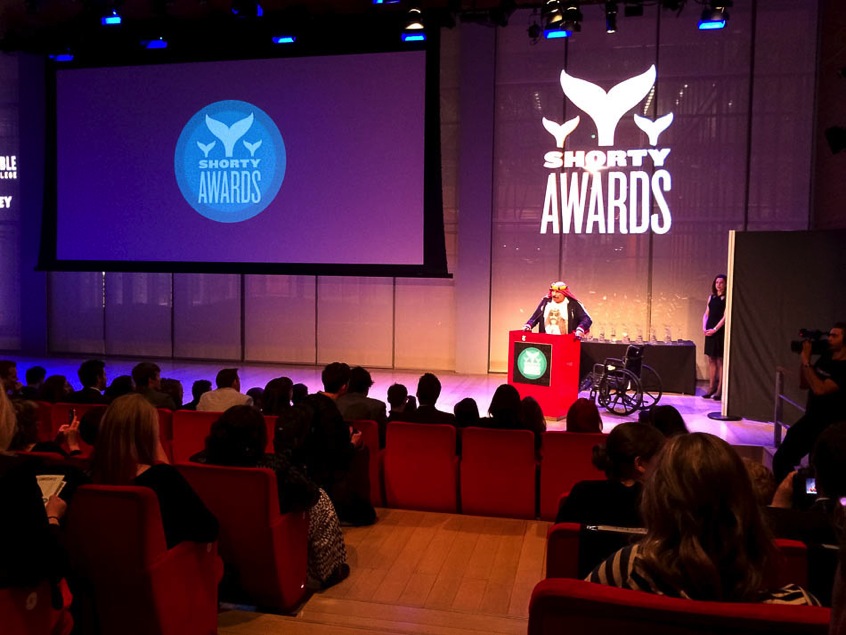 Won the biggest award of my career two weeks ago. I won this year's Shorty Award for GIFMaker. (That's The Iron Sheik saying a bunch of gibberish, above, shot from my seat at the awards ceremony in Manhattan).

Nice try Smokey, there was no mention of my award in the paper I work for.

No, there was no all-staff e-mail. But I get it, you're trying to get me to say something that will get me in trouble. It's not going to work, no matter what you bring up. I won a Shorty Award.

Yeah right. Only one of my GIFs has ever appeared on the paper's website, and that was a year ago. I'm not going to fall into your trap.

I'm still not biting. That blog went down about a year ago. I don't know why they pulled it down, or why they still have a link to it. Another mystery.
Enough of your distractions, Smokey. What is important is the work. That is what is always important, and I've learned a lot from my GIF project.

You need to follow your own creativity, wherever it takes you. Don't think for a second that the traditional newspaper photojournalists of the world have any appreciation for animated GIFs? Of course not, but so what? You can't let the attitudes of others dictate what you do creatively.
Don't quit a project or body of work just because you're not getting your due. If you believe in it, keep going.

If you can't get your work published, publish it yourself.

If what you've done is good, it will be noticed.

If I only did work that fit into the newspaper photojournalism world, things would get pretty boring.

Exactly.