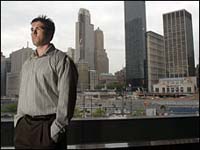 From the Washington Post's Laura Blumenfeld, A Navy Seal, Injured and Alone, Was Saved By Afghans' Embrace and Comrades' Valor:
Marcus Luttrell, 32, is a twin. His brother was also a Seal. Each had half of a trident tattooed across his chest, so that standing together they completed the Seal symbol. They were big, visceral, horse-farm boys raised by a father Luttrell described admiringly as "a hard man."
"He made sure we knew the world is an unforgiving, relentless place," Luttrell said. "Anyone who thinks otherwise is totally naive."
Luttrell, who deployed to Afghanistan in April 2005 after six years in the Navy, including two years in Iraq, welcomed the moral clarity of Kunar province. He would fight in the mountains that cradled bin Laden's men. It was, he said, "payback time for the World Trade Center. My goal was to double the number of people they killed."
The four Seals zigzagged all night and through the morning until they reached a wooded slope. An Afghan man wearing a turban suddenly appeared, then a farmer and a teenage boy. Luttrell gave a PowerBar to the boy while the Seals debated whether the Afghans would live or die.
Here.